SSL certificates
Select your SSL certificate among the most well-known certificate authorities
SSL certificates for all types of websites

Domain protection
The most popular and cheapest SSL certificate for one domain. Verifies the domain ownership. Available for individuals and legal entities. Optimal client-based SSL certificate solution.
Similar certificates

Green bar
Green browser bar will be a clear confirmation that your business has passed the extended validation and is the most reliable. If the customer confidence is your main goal, you should buy EV SSL certificate.
Similar certificates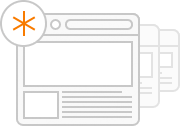 Domains and subdomains protection
Certificates are issued for all subdomains of the root domain. For example, they are issued not only for domain.ua, but also for home.domain.ua, shop.domain.ua and other subdomains. Verifies domain ownership. Available for business and individuals.
Similar certificates
Domains and subdomains protection
99.00
Annually
Order now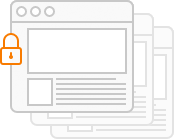 Multiple domains protection
The certificate is issued for several individual domains. Verifies domain ownership. Available for individuals and legal entities.
Similar certificates
Multiple domains protection
39.00
Annually
Order now
If you buy SSL certificate you can get:
Protect yourself and your customers
The main purpose of SSL certificates is to encrypt information during its transmission over the Internet from point A to point B. That is, all the data - whether it's personal information, bank coordination, geolocation, images, and other important information, that can be used by criminals, will be encrypted and delivered to the final destination in safety, without outside interference. If your information is important to you and you want to save the data that your customers provide, then purchasing an SSL certificate is the first and most important task that you should solve.
Demonstrate that the site is protected.
Even ordinary users who do not understand the essence of all technologies, visually understand which site is safe and which is not. This helps to understand the green bar of the browser, a small lock near the domain and HTTPS connection. One of these features (and best of all, all 3 at once) is a perfect indicator that whatever you will enter on the pages of such a resource will not fall into the hands of hackers, but will remain completely safe.
Promotion in search engines
Search engines appreciate when sites using the HTTPS connection - and this is possible only if SSL certificate on the site is installed. Ignoring a security certificate can strike not only the reputation of the site, but also SEO positions in search engines: Google's algorithms, for example, promote the issue of protected resources, all other things being equal. In Ukraine, more and more sites with SSL certificates - keep up with them.
Do not spend much on security, knowing the difference between SSL certificates
The difference between SSL certificates is the one who will receive it and for what purpose: a certificate with domain validation or DV SSL is issued to an individual, the owner of the domain name; certificate with organization validation or OV SSL is issued to the company that passed the validation, confirming its address in public databases; SSL with extended validation, or EV SSL issued to organizations that have confirmed domain ownership, the existence of the company and its location.
Protection for a site - is not a luxury, and you should not frighten SSL certificate cost.
You can order even the cheapest SSL certificate, it will fully perform all its tasks. The main thing is that it suits you by the number of domains, accessibility for individuals or legal entities, the presence of subdomains and the green line.
You couldn't find required certificate? Choose a certificate that meets the requirements of your site!