Website 8x Faster
with New Turbo NVMe Hosting
The most powerful processor with a frequency of

5 Ghz

New NVMe drive

12x faster

than SSD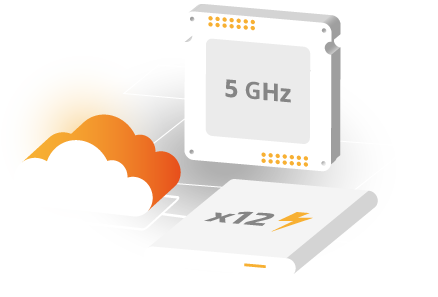 Faster than competitors - hosting on NVMe drives
Choose your hosting plan
First Turbo NVMe
Good if you're just starting
2.36 / mo
The prices contain the discount
2 sites
Processor 💪 5 GHz
NVMe-drive 🚀 10 GB
512 MB memory for PHP
Free Let's Encrypt SSL

free domain
Black Friday -20%
Strong Turbo NVMe
Ideal for e-commerce stores
4.76 / mo
The prices contain the discount
10 sites
Processor 💪 5 GHz
NVMe-drive 🚀 20 GB
1024 MB memory for PHP
Free Let's Encrypt SSL

free domain
Black Friday -20%
Powerful Turbo NVMe
Perfect for large-scale projects
5.56 / mo
The prices contain the discount
20 sites
Processor 💪 5 GHz
NVMe-drive 🚀 30 GB
1536 MB memory for PHP
Free Let's Encrypt SSL

free domain
Black Friday -20%
Even more power in the new pricing plans
Load testing results of our Turbo NVMe and SSD plans of our competitors
х8
Website productivity evaluation on Bitrix
х2.9
Million operations per second
х11.2
Read speed of megabytes per second
х5.5
Write speed of megabytes per second
х3.8
Quantity of input/output operations per second
Control panel of choice
Choose a control panel that meets your needs in order to manage your hosting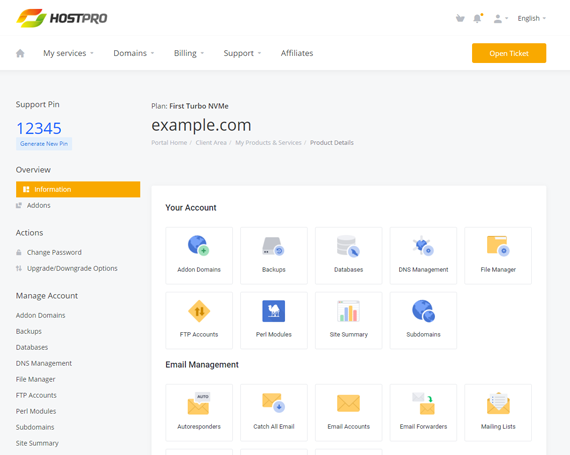 The DirectAdmin control panel in the client area
We've integrated the DirectAdmin control panel into the client area. Now you can manage your domain names, upload apps, create new email accounts and manage them as well as upload files and much more directly from the panel. Evaluate the convenience and simplicity of working with the panel right away.
Order
You can use one of the most popular panels:

A convenient control panel with rich functionality and support for popular operating systems and software

The most popular commercial panel to manage hosting. cPanel includes quite a big number of free software

Makes managing several sites easy. Each website is placed in a separate container and has its own cPanel control panel

Free website migration
We'll help you choose a plan and migrate your site as fast as possible. We'll troubleshoot technical issues.
Benefits of Turbo NVMe hosting
High read/write speed
NVMe drives work over the PCI Express 4.0 interface. Compared to regular SSD drives which work over the SATA interface, NVMe drives ensure a 12x speed increase of consecutive reading and a 6x faster write speed. As a result, your websites will load faster.
Higher speed of databases
NVMe SSD drives ensure a 4x speed growth when processing requests to databases as opposed to regular SSDs. Quick access to data makes websites more responsive and lets you easily run scripts that need input/output.
Lightning fast query processing
The next generation processor with the Intel® Turbo Boost 2.0 technology can process information many times faster, reducing the latency of multithreaded request processing to a minimum. Now your web app or e-commerce store, which had difficulties receiving heavy traffic, will always be ready to receive a lot of visitors.
Reliable and stable work
NVMe is a solid state drive that is less prone to vibrations or being hit. The absence of moving parts allows you to use a wider range of working temperatures. When the memory is full, NVMe continues to read data as opposed to a regular hard drive which simply won't respond.


Email
Unlimited number of email accounts;
Mail protocols POP3, IMAP, SMTP;
Mail encryption SSL;
Mail web interface;
Mail redirection;
Antivirus mail checkup;
Spam checkup;
Setting up mailing and voicemail;

Control panel
File manager;
Support for an unlimited number of domains;
Managing subdomains, websites, and FTP accounts;
Access and Error journals (server logs), server stats;
Server stats;
Managing .htaccess;
Managing tasks according to a schedule - Cron;
Personal error pages;

Databases
MariaDB 10 database server;
PostgreSQL 9.2 database server;
Access to PHPMyAdmin/PHPPgAdmin;
Remote access to MySQL;

Security
Daily backups;
Antivirus protection;
Spambot protection;
Directory protection through passwords;

Server specifications
Nginx web server;
Support for PHP 4.4 - 7.4;
Support for Perl 5 and Python Selector 2.7.18 - 3.8.1;
Support for Ruby Selector (only for cPanel) and NodeJS Selector 9.11.2 - 10.22.0;

Additional services
24/7/365 tech support;
30-day money-back guarantee;
Free Let's Encrypt SSL;
99.9% uptime;