Reliable
CMS hosting for your website
LiteSpeed website accelerator
Antivirus on all packages
Free Certum Commercial SSL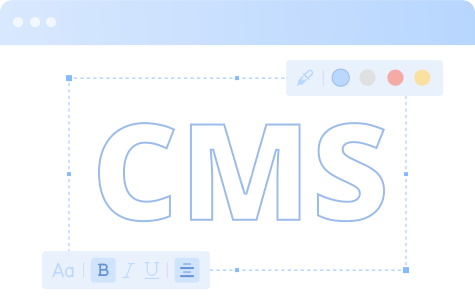 The best CMS hosting in Ukraine
Just choose your CMS - we'll do the rest
Hosting as a gift
We will quickly and carefully transfer your site from another hosting provider and give a month of your hosting package for free as a gift.
Benefits of ordering CMS hosting from HostPro
CMS auto-installation
Install a content management system in one click when ordering a package
LiteSpeed Cache
Speed up your site up to 5x with web server-level caching
Daily backups
The data is stored automatically and available in the client panel for 30 days
24/7 support
At any time of the day or night, we will solve the issue as quickly as possible and as best as possible
Why should you order CMS hosting from HostPro?
CMS hosting is universal, it is suitable for sites of any direction: an online store, a blog, a personal business card site, a resource for a restaurant or an online language school. Either you have a small one-page site or a large-scale resource for wholesale trade - it is convenient to control all work thanks to the installed content management system. There are many CMS options: WordPress, Joomla, PrestaShop, Drupal, Magento, MODx or OpenCart - we offer CMS hosting for each of them.
CMS hosting is always profitable if you order it from HostPro. Along with great shared hosting optimized for your CMS, you get a CMS auto-installer and LiteSpeed Cache website accelerator in addition to super-fast SSD drives.
Didn't like the previous hosting provider? We will gladly transfer your site to our hosting quickly, carefully and for free. We will also give you a month of hosting package use and a commercial SSL Certum Commercial for 1 year.
What is CMS hosting?
Hosting for CMS is a server that is already optimally configured for websites' performance based on various CMS. The main advantage of such hosting is the installed CMS, ready for full-fledged work. You don't need to search for files, for distributions and current updates - we have already taken care of installation, configuration and support.
And the LiteSpeed web server will allow you to quickly process and transfer website content to users. Using the control panel installed on the server, it is possible to optimize PHP version, modules and options.
Also, the presence of installed security modules (Mod_Security | ImunifyAV) will help you to detect possible vulnerabilities of the site as quickly as possible and to take appropriate measures against them.
For which sites is CMS hosting suitable?
A landing page, a business card site, a blog, an online store, a corporate/educational site or an information portal - any project created on the basis of CMS will become affordable and fast with CMS hosting from HostPro.
How to upload a CMS site to Hosting?
You can upload a site to hosting in several ways: using various FTP clients (FileZilla, Total Commander and others), through the "File Manager" in the control panel (cPanel and others) or using SSH. In each case, you should be careful with archiving files and their subsequent placement. Step-by-step instructions for self-transferring a CMS site to our hosting are available in our knowledgebase.
Also we offer free and fast site migration to HostPro hosting. It is enough to contact our technical support service for this purpose.
Speed up your site
with our WordPress hosting packages