Archive plan
TurboSSD Hosting
The service is not available to order. Try our new plans on high-speed NVMe drives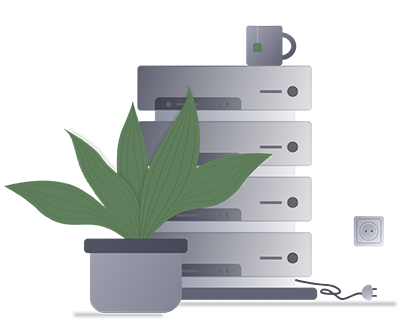 SSD Hosting is even faster with NVMe drives!
First Turbo NVMe
Good if you're just starting
Websites

2

NVMe-drive

10 GB

inode

300 000
Strong Turbo NVMe
Ideal for e-commerce stores
Websites

10

NVMe-drive

20 GB

inode

500 000
Powerful Turbo NVMe
Perfect for large-scale projects
Websites

20

NVMe-drive

30 GB

inode

700 000
Websites

20

SSD-drive

30 GB

RAM for PHP

256 MB
Websites

30

SSD-drive

50 GB

RAM for PHP

256 MB
TurboSSD XXL
Archive plan
Websites

40

SSD-drive

70 GB

RAM for PHP

256 MB
CONTROL PANEL
DirectAdmin, cPanel, Multiadmin cPanel

SSH, sFTP/FTP, SCP access

Access and Error logs (server logs), server statistics;
SERVER SPECIFICATIONS
Server locations (DirectAdmin):

Server locations (cPanel, Multiadmin):

France, Poland, Netherlands, USA
DATABASES
Access to phpMyAdmin\phpPgAdmin

Remote connection to MySQL
SECURITY
Directory protection through passwords
cPanel control panel (1 account)

1/ mo

cPanel MultiAdmin control panel plan First

2/ mo

cPanel MultiAdmin control panel plan Strong

3/ mo

cPanel MultiAdmin control panel plan Powerful

4/ mo

Dedicated IP

3/ mo
Free website migration
We give you Certum Commercial SSL certificate and one free month of hosting as a housewarming gifts
Benefits of SSD Hosting on NVMe drives
Choose your own convenient control panel for SSD hosting on NVMe drives: the world's most popular cPanel; DirectAdmin with support for popular OS and software; MultiAdmin, with which you can easily manage several sites simultaneously – you can give developers the access via cPanel only to the site they are working on.
All your data is placed on a RAID10 array of SSD drives. This allows you to decrease the average page load speed 3x (up to 0,8 seconds).Thanks to the PCI Express 4.0 interface on SSD NVMe drives data is processed in order of priority and in multiple threads – that's how the maximum possible read/write speed is provided.
Too lazy, perhaps, don't know about the reliability of NVMe drives. Thanks to integrated structure and the absence of moving parts NVMe drives are more resistant to being hit or vibrations and allow you to work over a wider temperature range. Even if the memory is full, SSD NVMe drives continue to read data.
From now on, you don't have to worry about saving your resource data – every night we backup every site on the server for free and give you the opportunity to get any archive for the previous 30 days. No matter what happens, you'll be able to restore your site's backup in minutes, or at hours as a last resort.
Why have SSD plans moved to the NVMe disks?
When the opportunity to purchase NVMe drives came up, we immediately started moving from conventional SSD drives to the SSD NVMe drives of new generation. The motivation for the moving to new drives was the significantly faster read/write speed and database query processing.
What to do if I've been using old TurboSSD plans?
You don't have to worry anyway – all your data will be quickly and carefully transferred to the new plan and NVMe drives by our technical support specialists.
When will old TurboSSD plans expire?
Now TurboSSD plans are not available to order, but still available to renew. The plans will remain in effect until the last customer. Faster, upgraded Turbo NVMe Hosting plans are available for ordering at the moment.