Once upon a time, there was a tangerine-colored mug…
And she lived well at Hostpro, in an atmosphere of great servers and people. She had already done all the holiday preparations: took the best sweetnesses out of the pantry, decorated the server room, and watched Harry Potter. But most of all, she wanted to become that bright Christmas present and find a real home for the holidays.
And then one winter day, either your order or renewal found a really good owner for the Hostpro's mug. You filled out the form and the mug traveled at the reindeer straight to your post office. Christmas carols are heard in the snowy streets, smoke rises from the chimney into the starry sky, and the Hostpro's mug warms you with our warmth and its own! Isn't it a New Year's miracle?
How do I get a cup?
Three simple steps and the mug will be delivered to you
Order or renew any plan until January 19, 2024
Fill out the form below with the shipping data
Receive the parcel at the post office and celebrate cozy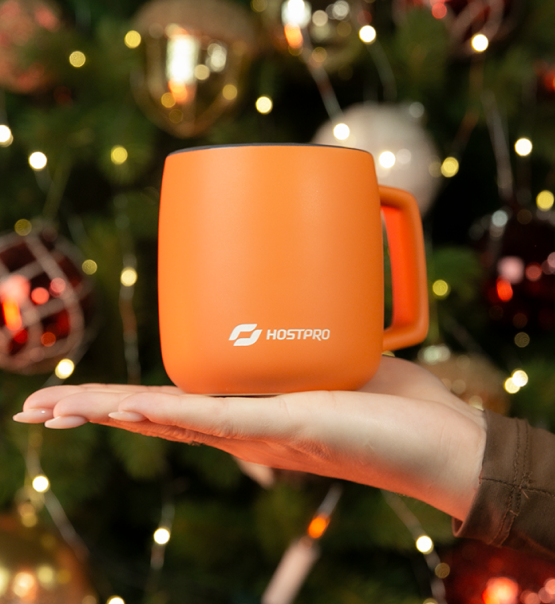 Order or renew any hosting or VPS plan and try again
Stage 1
To get the gift from Hostpro, enter your current email address
The conditions are not met
Order or renew any hosting or VPS plan and try again
Stage 2
Your gift is ready to be delivered
Please note! Delivery of a gift by Nova Poshta is at the expense of the recipient. Delivery of a gift by UkrPoshta is at the sender's expense.
Please note! To avoid any sending errors, please use only the Ukrainian language when entering data.