Gifts from Hostpro
Order or renew any package and get a popsocket for free guaranteedly!
What is a popsocket?
Popsocket is a multifunctional device that has been the best selling mobile accessory category for several years in a row. It was created by the American David Barnett, who intended only to make a convenient headphone mount. All friends and relatives laughed at him when, in 2012, David began raising funds for the industrial production of his invention. To this end, he even pledged the money paid by the insurance company as compensation for the burned-out house. But already in 2017, his startup has become a big company, that's how a person at whom everyone was laughing can become famous, if you follow your dream. David's invention is now used by everyone from little to old, famous stars and the guy from the next yard as well. We hope you will find our little gift useful.
We are ready to send it to you, it is necessary to fill in the form at the end of the site's page.
But that's not all! If you make a photo with Hostpro popsocket, we will give you valuable gifts. The promotion is valid until October 31, 2019.
Why is а popsocket convenient?
Here are some of our options for using a popsocket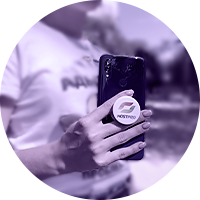 Holder
Have you ever had a phone drop from your hands? Now watching funny memes, writing with one hand, taking a selfie is not a problem! With popsocket, you can take the best pictures without having fear to drop the device.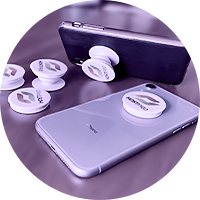 Coaster
Do you want to watch movies on your phone and do other things at the same time? A popsocket will come to your aid! Place the device on a flat surface with a convenient stand and without any problems combine business with pleasure.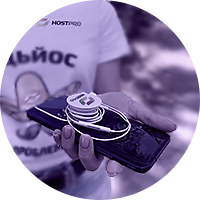 For headphone
If you are a music lover like us and you're tired of unraveling the sailing knots from your headphones all the time, our gift will come in handy! Twist the wire on the popsocket and enjoy music at any time, always having them at hand.