Comodo Positive Multi-Domain SSL Certificate
Protection information
Increase positions in search
Growth of trust visitors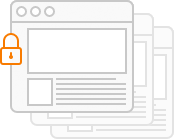 Comodo Positive Multi-Domain SSL Certificate
The certificate is issued for 1 primary domain and 2 additional domains. It verifies the ownership of the domain name Validated (DV). Available for individuals.
Similar certificates
Comodo Positive Multi-Domain SSL Certificate
39.00
Annually
Order now
Comodo Multi-Domain SSL provides the highest level of protection for online transactions. Each certificate is signed with 2048-bit digital signature, provides 256-bit data encryption.
With a single certificate, you can protect up to 100 domains on the same IP address. This significantly saves money and time on managing and purchasing individual certificates. It will be an ideal choice for small and medium-sized companies with a large number of sites.
Compatible with 99.3% of browsers:

Google Chrome 3+

Mozilla Firefox 1+

Safari 0+

Opera 7+

IE 5+
Features and specifications of certificates
Validation - Domain;
Included 3 domains;
256 bit encryption;
Free re-issue of the certificate, unlimited number of times;
Compatibility with browsers - 99.3%;
Ability to cover up to 250 domains;
Money back guarantee - 30 days;
The certificate is confirmed by a 2048-bit signature;
Automatic domain verification, which does not require submission of documents;
Does not protect subdomains;
The certificate is insured for $10,000;
Free technical support 24/7;
Issue of the certificate 24/7.