Cloud Site Hosting
Scale up resources to fit your needs Payment for used resources Easy and clear management
Cloud Site Hosting with easy-to-manage resources
Basic package resources
Basic package includes:
Free SSL certificate
Protection against viruses with ImunifyAV
Excellent technical support 24/7
CMS auto installation with Softaculous
1 Site
1 GB RAM
1 CPU
10 GB SSD
8 times more resources with "Turbo" mode
Increase the amount of available resources by activating Turbo mode in your client area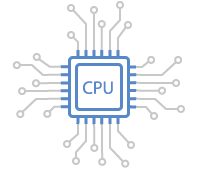 8 cores processor
Allows to process an increased number of web requests based on site scripts that are executed for each user.
The cost of using of 100% 1CPU is $ 0.009/hour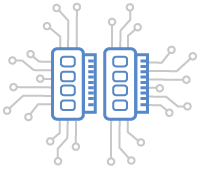 8 GB RAM
Provides stable operation of the site with a sharp increase in number of users viewing its pages simultaneously.
The cost of using of 1GB of RAM is $ 0.0034/hour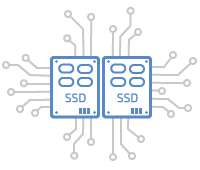 80 GB SSD drive (inode 800 000)
There is no need anymore to calculate the amount of disk space and number of inode for the sites, where users can post their content, such as videos and images.
The cost of using of 1GB SSD is $ 0.00016/hour
Flexible
Additional invoice only for used resources that exceed basic ones. Charging is per hour.
Protected
Daily backups of your site. The information is stored for up to 1 month.
Fast
With LiteSpeed Web Cache, your site will load faster with web server-level caching.
Safe
Each site is located in an isolated container.
Unique
There are no analogues among Ukrainian hosting providers.
Convenient
Dedicated server capacity with Cloud hosting easy management.
Excellent technical support
If you have any questions, contact our experts by phone, via live chat chat or ticket system 24/7/365, we will be happy to help.
Ask a Question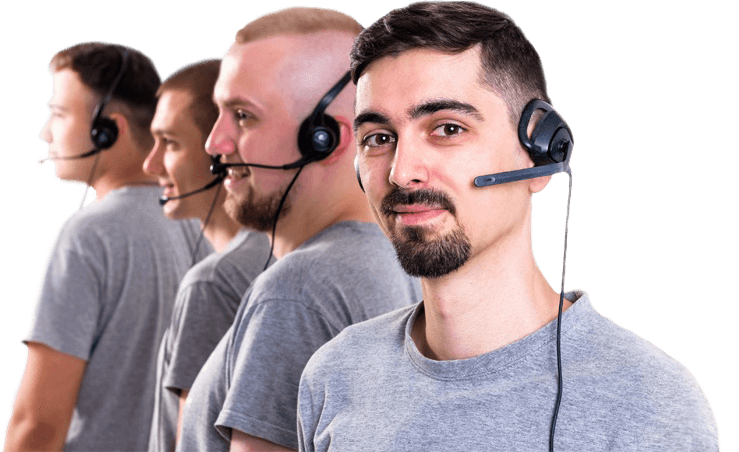 Advantages of Cloud Site Hosting
Resources are scalable up to 8 times to meet your project needs
Activate "Turbo mode" in the admin panel, so that resources are always available in case of load rising or other changes in consumption. After activation, the package resources will be increased 8 times.
Ability to increase the volume of one parameter
If necessary, you can increase only one of the three package parameters. Add the number of CPU cores, RAM or SSD-drive. This is done in real time in one click.
Additional fee only for used resources
No matter how large the consumption limit, the payment will be based only on the actual usage of resources. Herewith, their cost corresponds to the cost of the regular package, which allows you to save significantly.
Automatic notifications of increased resource usage
You will be notified by email in cases of a sharp rise in resource consumption on your site. So you will be able control its load and avoid unexpected costs.
What is the "Turbo" mode?
"Turbo" mode allows you to increase basic resources of the package by 8 times for stable website operation during load spikes. In this case, the fee will be charged only for consumed resources that exceed basic ones, not for the amount of available resources.
How is the invoice for Cloud Site hosting generated?
14 days before the next due date, an invoice is issued for basic resources of the package according to the selected billing cycle.
If "Turbo" mode was activated during the package usage and consumed resources exceeded basic ones, another additional invoice will be issued once a month.
How is the payment for resource usage calculated in the "Turbo" mode?
Payment is calculated every hour, only for actually used resources that exceed basic ones.
Suppose the site has used 3.7 GB of RAM for 3 hours, in this case additional invoice will be issued only for usage of 2.7 GB of RAM during this time and will be $0.02754 (0.0034 * 2.7 * 3 = $0.02754)
Resource usage statistics are available in your client area.
When will a message about increasing resource usage be sent?
If you use resources that exceed basic ones (except for the SSD-drive) for 3 hours, a message will be sent to your mail if the corresponding switch is activated in the client area.
What is the difference between Cloud Site and Cloud Hosting?
Cloud Site is a shared hosting service where you are provided with a certain amount of resources, and you are charged for the resources used in excess of your plan on an hourly basis. In this case, you share one server, its computing resources, and RAM with other neighboring sites. Cloud Site is one of the most budget-friendly hosting solutions. Cloud hosting is a server rental in a virtual environment created from a cluster of physical servers. Cloud hosting provides freedom of server management, the ability to improve the infrastructure, guaranteed and flexible resources, and most importantly - independence from neighboring sites. On Cloud Hosting, you can customize virtual machines to your own needs. Accordingly, cloud hosting is much more expensive.
Hosting control panel cPanel;
Unlimited bandwidth;
Database server MariaDB 10, phpMyAdmin;
Database server PostgreSQL 9.2, phpPgAdmin;
LiteSpeed Web Server;
PHP 4.4 - 8.1;
Perl 5, Python Selector, Ruby Selector, NodeJS Selector;
SSH upon request, sFTP/FTP, SCP access (secure data copying);
Unlimited email accounts;
Mail lists/forwarders/autoresponders;
POP3, IMAP, SMTP services for mail management (including SSL encryption);
Secured webmail interface;
File manager (via hosting control panel);
Unlimited subdomains;
Subdomains, websites and FTP accounts management;
Access and Error logs (server), server stats;
Password protected directories;
Custom error pages, managed with .htaccess;
Cron task scheduler;
Daily data backup.


Processor
Intel Xeon® CPU E5-2630 v4
Instruction Set 64-bit

RAM
Size: 128 GB
DDR4-1600 ECC/REG SDRAM

Drive
Volume: 3 ТВ
RAID10 on the SSD disks
Read speed : 550 MB/s
Write speed: 520 MB/s
Adaptec 7805 controller