i3
6 GB RAM
2 Cores
100 GB SSD-disk
1 IP
100 Mbit port
Tech support 24/7
i5
8 GB RAM
4 Cores
150 GB SSD disk
1 IP
100 Mbit port
Tech support 24/7
i7
10 GB RAM
6 Cores
200 GB SSD disk
1 IP
100 Mbit port
Tech support 24/7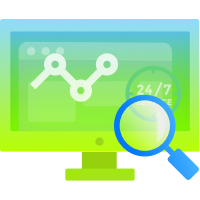 Round the clock server monitoring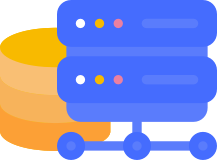 Professional industrial equipment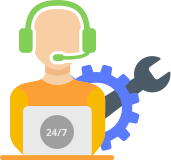 Customer support 24/7
Features of a hybrid server
Guaranteed resources
A hybrid server combines all the advantages of a dedicated server. On a big professional dedicated server, each hybrid server has processor cores, memory and a disk. These exclusively belong to this server.
Powerful SSD disks
A hybrid server uses an SSD disk array which ensures the read/write speed that exceeds the speed of regular SATA or SAS disks. Thanks to SSD, your hybrid server can process queries to the database, web server, mail and apps your website uses much faster.
High productivity
The usage of the industrial Entry servers with Intel Xeon E5-2630 processors ensures top productivity in combination with big volumes of RAM and disk.
Renting Microsoft licenses
You can rent a Microsoft license for some time, which will allow you to save money on expensive software. Our experts will install and fine tune everything.
Flexible virtualization
Thanks to virtualization, installation, server transfer to the new hardware and extension of server resources can be done fast and won't require reinstallation or resetting the OS. In some cases, there's no need to restart the server for CentOS 6.
Daily backups
You needn't worry about your data and its integrity since all the files are safe due to daily backups. You have access to all files if they were there at the time of creating a backup copy.
Convenient management
With cPanel, ISP Manager, or Plesk, you can create separate accounts and configure access to them for every site.
WHM/cPanel control panel

10

/ mo
Plesk 12 control panel

10

/ mo
ISPmanager 5 control panel

4

/ mo
Dedicated IP

3

/ mo
Remote data storage (Backup) 1TB

10

/ mo
You can rent proprietary software from Microsoft for the necessary period of time so as not to buy expensive licenses. You will be saving money and you don't have to deal with all installations as we will set up licensed software for you.


Processor
Intel® Xeon® Processor E5-2630 2
Frequency 2.3 GHz
Maximum frequency 2.8 GHz
Bitness 64-bit

RAM
DDR3L SDRAM
Standard PC3-12800
Effective frequency, MHz 1600
Error correction (ECC) - present

Disk system
Samsung EVO 840 version
Type of flash memory NAND - TLC
Maximum read speed, Mbit / sec 540
Maximum write speed, Mbit / sec 520
Mean time between failures (MTBF), million of hours - 1,5

Software
OS Linux-based (Centos, Debian, Ubuntu)
Apache 2.x
MySQL 5.x
PHP 5.x
Perl
Python
Mail server (Exim, Sendmail, etc.)
FTPserver (pureftpd, proftpd)
Bind
YUM package management