Birthday of Hostpro!
Let's celebrate it together 🎉
Trends, tendencies, tastes and preferences, requirements and expectations changes, eventually, the seasons constantly changes, but this does not scare us. Everytime we quickly jump from shorts to down jackets and every day for 19 years we have been making our service more modern, more convenient and more useful for you. We do not lag behind trends, set tendencies, try to consider all your tastes and meet expectations.
Year by year, Hostpro company grows and develops, all thanks to you, our beloved customers. Whether we are 19 or 119 years old (yes, we are going to live up to this date), Hostpro is not just a hosting, but also people who need it, so this is your holiday. Your trust is very important. We are proud of your sites and success. Thank you for choosing us for so many years.
Your gift
the promotion is valid until 20.03.2020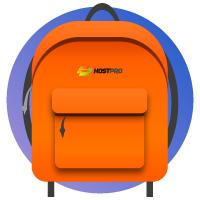 A backpack for hosting or hosting for a backpack?
Over the years, many cool things have been presented. It's time to bring them together and find out if they all fit into a new gift from Hostpro.
Order or extend any hosting package for a year or more and get a backpack as a gift.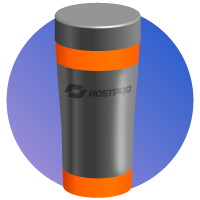 Or maybe a Thermo Cup?
Keep the warmth of your favorite beverages with the Hostpro Thermo Cup. While we will securely keep your sites on our hosting.
Order or extend any hosting package from 3 months to a year and get a thermo cup. Owners of domain names and SSL certificates also will not remain without gifts. 🙂
Oops! The promotion has already ended
We will be happy to give you a gift next time