GeoTrust True BusinessID Wildcard Certificate
Protection information
Increase positions in search
Growth of trust visitors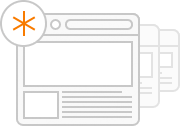 GeoTrust BusinessID Wildcard
The certificate is issued for 1 domain and unlimited number of it's subdomains. It verifies domain name's ownership company's registration Validated (OV). Available for legal entities.
Similar certificates
GeoTrust BusinessID Wildcard
325
Annually
Order now
GeoTrust True BusinessID Wildcard Certificate is not cheap one, you pay for the excellent quality of the famous brand. One certificate can protect the domain and unlimited number of it's subdomains. A closed green icon in the browser bar will be the evidence of the information's encryption reliability. The certificate is ready for use immediately after the company passed the verification.
To accelerate the procedure of the certificate issuance before the order is necessary to fulfill the certification center requirements. A full list can be found here.
Before ordering this certificate, you should read the full list of Certification Authority (CA) requirements. The issuing procedure implies that the organization must pass authentication by location, telephone number, domain ownership. In order to get your certificate issued you have to pass the final check, that is, answer the call from the certificate authority.
Compatible with 99.3% of browsers:

Google Chrome 3+

Mozilla Firefox 1+

Safari 0+

Opera 7+

IE 5+
Certificates' features and specifications
Validation - Organization;
The certificate is confirmed by 2048-bit seal;
Free Site Seal;
Free re-issuance of the certificate no more than 5 times;
Protects subdomains;
Money back guarantee - 30 days;
256 bit encryption;
Compatibility with browsers - 99.3%;
The certificate is insured for $1,250,000;
Free licenses for an unlimited number of servers;
Free technical support 24/7;