Reliable
Drupal hosting
LiteSpeed website accelerator
Instant CMS auto-installation
24/7 server monitoring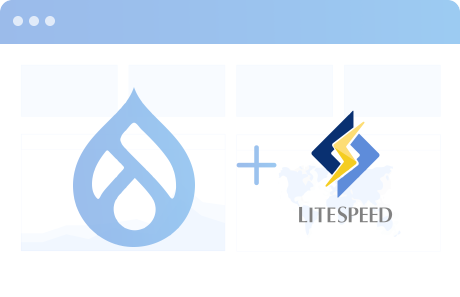 Hosting for a Drupal website from HostPro
Drupal Start
For single-page Drupal sites
Drupal sites

2

SSD-drive

10 GB

Memory for PHP

512 MB

Inodes

300 000
Drupal Pro
For small Drupal online stores
Drupal sites

15

SSD-drive

20 GB

Memory for PHP

1024 MB

Inodes

500 000
Drupal Business
Solutions for large-scale Drupal projects
Drupal sites

25

SSD-drive

30 GB

Memory for PHP

1536 MБ

Inodes

700 000
CONTROL PANEL
SSH, sFTP/FTP, SCP access

Access and Error logs (server logs), server statistics
SERVER SPECIFICATIONS
Ukraine, Netherlands, Poland, USA
DATABASES
Access to phpMyAdmin\phpPgAdmin

Remote connection to MySQL
SECURITY
Directory protection through passwords
The required Drupal tools
Auto-installation
A simple interface for installing Drupal
LiteSpeed ​​Cache
The site will load faster thanks to web server level caching
Command line
Manage your Drupal site quickly and easily
The benefits of Drupal Hosting from HostPro
An excellent hosting solution for an online store
No more wasting time installing a content management system. Drupal sites hosting involves auto-installation of the CMS in one click. You can do this during the order or from your client area.
24/7 professional support
If there are any difficulties configuring your Drupal website, we do not lead you around different departments. At any time of the day or night - on holidays, weekends or in the middle of the working week - the lively technical support will solve the problem in the best way possible.
New SSD drives speed up site page loading by 5 times. Thanks to the LiteSpeed web server, new caching options appear. Want to be the fastest in the Wild West? Install LiteSpeed Cache plugin and stay ahead of the competition.
Did your files get corrupted or did the update erase important information? No problem, you can always restore your site by contacting us. The backups are stored for 30 days, so even if the problem was not noticed immediately, it will still be possible to restore the content.
Hosting as a gift
We will quickly and carefully transfer your site from another hosting provider and give a month of your hosting package for free as a gift.
Drupal hosting in Ukraine
The Drupal content management system is a free CMS that is among the top three for a reason. Thanks to thousands of modules and themes based on Drupal CMS, you can create a site for any purpose: from a business card site to an online store. At the same time, each of them will have a special design.
Despite all the functionality, even beginners can easily manage a Drupal website. And the Drupal web hosting service simplifies the process even more - using it, you will get virtual hosting with a convenient control panel and a pre-installed CMS that is already ready for work. The ease of managing Drupal sites is also explained by the availability of documentation and community forums, so any question will not remain unanswered.
Drupal hosting is an excellent solution for developers or business owners who want to save time and speed up the start of their projects: there is no need to search for the latest versions, download, install, create a database and perform preliminary system configuration - we have done it for you by creating CMS Drupal hosting and simplifying the installation process to one click.
Three hosting packages at an affordable price: you can start from small and then easily upgrade to a higher package as your project scales. At the same time, we take maximum care of the security - DDoS protection and ImunifyAV+ antivirus are already included in the price of Drupal hosting packages from Hostpro.
How to transfer Drupal 8 to hosting from a local server?
You can upload a site to hosting in several ways: using various FTP clients (FileZilla, Total Commander and others), through the "File Manager" in the control panel (cPanel and others) or using SSH. In each case, you should be careful with archiving files and their subsequent placement. Step-by-step instructions for self-transferring a Drupal site to our hosting are available at the link.
We offer free and fast site migration to HostPro hosting. It is enough to contact our technical support service for this purpose.
What is Drupal Managed Hosting?
Managed hosting is the principle according to which the structure of the hosting provider is built and configured. In other words, fully managed hosting is when the hoster takes care of everything: maintains and updates the hardware and system part of the servers, maintains and improves the monitoring system of all server services.
In case of system failure, the hosting provider assumes responsibility for eliminating system and hardware malfunctions. In addition, the principle of managed hosting also includes creating backup copies of the site and saving these copies for a certain period of time. Drupal hosting from HostPro uses and fully follows the principle of the managed hosting structure.
What is the difference between Drupal hosting and regular virtual hosting?
Hosting for Drupal 8 gives you the opportunity to use the most popular version of the CMS. On the physical server of Drupal hosting, LiteSpeed web server is used, which significantly increases the speed of information processing in comparison with Apache or Ngnix.
MariaDB server is optimally configured for sites based on CMS Drupal 8. Due to faster processing of requests to the database, the time required to process information from the sample is reduced. As a result, the site's average response time decreases. Pre-installed control panel on the server allows you to select the PHP configuration, including the version, modules and parameters. ImunifyAV+ is additionally used to check accounts for possible vulnerabilities in the code.
Which server location is better to select?
So that the site loads faster for your visitors, choose the location where your target audience is larger. Available locations of data centers for Drupal hosting: Ukraine, Europe (Poland, Netherlands) and the USA.
What sites is Drupal suitable for?
Since Drupal is a universal CMS, you can create on its basis a site of any subject and purpose: a landing page, a business card site, a blog, an online store, a corporate/educational site or an information portal.
Speed up your site
with our Drupal hosting packages