Comodo WildcardSSL Certificate
Protection information
Increase positions in search
Growth of trust visitors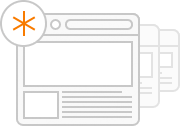 Comodo Wildcard SSL Certificate
The certificate is issued for all subdomains of the root domain. It verifies the ownership of the domain name Validated (DV). Certificate is available for individuals and legal entities.
Similar certificates
Comodo Wildcard SSL Certificate
250
Annually
Order now
Comodo Wildcard SSL Certificate is the simplest and most economical way to protect a primary domain and an unlimited number of it's subdomains. Perfect for small, medium-sized businesses and commercial sites with low traffic.
This certificate can be issued within a few minutes after payment. In order to receive it, you do not need to provide documents, just enter information into the CSR request.
Compatible with 99.3% of browsers:

Google Chrome 3+

Mozilla Firefox 1+

Safari 0+

Opera 7+

IE 5+
Certificates' features and specifications
Certificate for one domain name;
Verification - Domain;
256 bit encryption;
License for an unlimited number of servers;
Compatibility with browsers - 99.3%;
Free certificate re-issue;
Money back guarantee - 30 days;
Displays Comodo seal;
The certificate is immediately ready for use;
The certificate is confirmed by a 2048-bit signature;
Protects subdomains;
Automated verification that does not require confirmation;
The certificate is insured for $250,000;
Free Site Seal (Secure Seal);
Free technical support 24/7;
Issue of the certificate 24/7.