Comodo InstantSSL Premium Wildcard Certificate
Information Security
Increase positions in search
Increase visitor confidence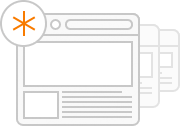 Comodo InstantSSL Premium Wildcard Certificate
The certificate is issued for one domain and all its subdomains. Checks ownership of the domain name and company registration - Organization Validation (OV). Available for legal entities.
Similar certificates
Comodo InstantSSL Premium Wildcard Certificate
195
Annually
Order now
Comodo InstantSSL Premium Wildcard is a business level certificate that will be an ideal protection for small companies and commercial sites. This certificate is suitable for one domain and all its subdomains protecting.
The lock icon in the address bar for users will be evidence of the operations security on the site. An additional guarantee will be the dynamic Comodo Site Seal, through which you can view all the information about the company in real time.
Before ordering a certificate, we recommend you to read the Certification Center requirements.To obtain this certificate the company should be checked by the company location, the specified telephone number, domain ownership, and the final test call.
Therefore, the certificate may be ready to work within a few days after ordering.
To speed up the certificate issuance process, it is necessary to comply with the requirements of the certification center before ordering. The full list can be found here.
Compatible with 99,3% of browsers:

Google Chrome 3+

Mozilla Firefox 1+

Safari 0+

Opera 7+

IE 5+
Certificates features and specifications
Validation - organization;
Certificate for one primary domain;
Protects subdomains;
128/256-bit encryption;
Free license for unlimited number of servers;
Browser compatibility - 99,3%;
The certificate can be reissued an unlimited number of times;
Displays seal Comodo Secure Site Seal (static);
The certificate is confirmed by a 2048-bit signature;
30 days money back guarantee;
The company is checking the domain and the whole organization;
The certificate is insured for $250 000;
Free 24/7 technical support;
Certificate issuance 24/7.
Suitable for large corporate portals, online stores, credit organizations.