Comodo Positive Multi-Domain Wildcard SSL Certificate
Protection information
Increase positions in search
Growth of trust visitors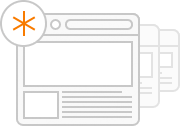 Comodo Positive Multi-Domain Wildcard SSL
The certificate is issued for 1 basic domain and 2 additional domains. It checks the domain name ownership Validated (DV). Available for individuals.
Similar certificates
Comodo Positive Multi-Domain Wildcard SSL
239
Annually
Order now
The Comodo Positive Multi-Domain Wildcard SSL certificate is the cheapest one of multi-domain certificates.The certificate includes by default 3 domains – 1 primary and 2 additional. The protection of the Positive Multi-Domain Wildcard does not automatically extend to the root domain domain.com and its subdomains (* .domain.com). To support both the primary domain and its subdomains, Wildcard support must be supplemented with additional domains (* .domain.com). For an additional fee, you can add up to 100 primary domains. It is an ideal solution for small commercial companies that need to secure several sites at once.
Compatible with 99.3% of browsers:

Google Chrome 3+

Mozilla Firefox 1+

Safari 0+

Opera 7+

IE 5+
Features and specifications of certificates
Validation - domain;
Protects an unlimited number of subdomains;
The ability to 256-bit data encryption;
Free license for unlimited number of servers;
Browser compatibility - 99.3%;
Free reissue of the certificate;
Comodo Secure site seal (static);
30 days money back guarantee;
The ability to reissue the certificate;
The certificate is confirmed by a 2048-bit signature;
Automatic verification that does not require the presentation of documents;
For an additional fee you can add up to 100 domains;
The certificate is insured for $10,000;
It can be installed on different IP addresses;
Free 24/7 technical support;
Issuance of certificate 24/7.
Suitable for corporate portals, mail server.