Comodo Multi-Domain Wildcard SSL Certificate
Protection information
Increase positions in search
Growth of trust visitors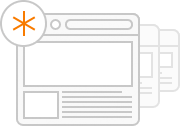 Comodo Multi-Domain Wildcard SSL
The certificate is issued for 1 basic domain and 2 additional domains. It verifies the domain name ownership and company registration Validated (OV). Available for legal entities.
Similar certificates
Comodo Multi-Domain Wildcard SSL
407
Annually
Order now
Comodo Multi-Domain Wildcard SSL is one of the most unique certificates. This certificate is an excellent choice for companies that have multiple sites, since the price includes 3 domains at once.
Comodo Multi-Domain Wildcard SSL is an economical option that allows you to simplify administration of the site security system by consolidating subdomains on a single certificate.
Using Comodo Multi-Domain Wildcard SSL, you can protect up to 100 primary domains and an unlimited number of subdomains. It is worth mentioning that in order to secure more than 3 main domains, you need to purchase additional SANs.
To obtain this certificate, the company must pass the verification of the domain and the entire organization. The certificate will be ready for used within a few days after the order.
To accelerate the procedure of the certificate issuance before the order is necessary to fulfill the certification center requirements. A full list can be found here
Compatible with 99.3% of browsers:

Google Chrome 3+

Mozilla Firefox 1+

Safari 0+

Opera 7+

IE 5+
Features and specifications of certificates
Certificate for three main domains;
Protects an unlimited number of subdomains;
256 bit encryption;
Free license for an unlimited number of servers;
Compatibility with browsers - 99.3%;
Free certificate re-issue;
Money back guarantee - 30 days;
Displays Comodo Site Seal (static);
The certificate is confirmed by a 2048-bit signature;
Additionally, you can add up to 100 domains;
The certificate is insured for $ 250,000;
Can be installed on different IP addresses;
Free technical support 24/7;
Issue of the certificate 24/7.