Linux Hosting
Extended 24/7 technical support Websites protection with antivirus 30 days moneyback guarantee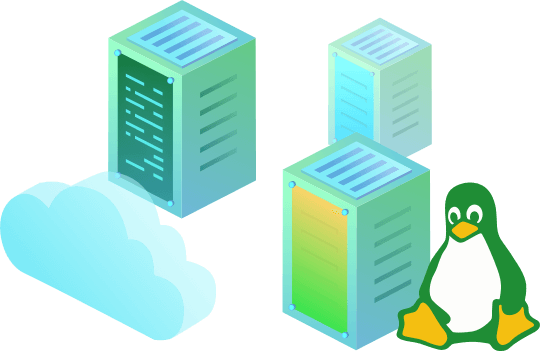 Fast and high-quality Linux hosting in Ukraine
Simple
Good choice for blogs and small sites
2 sites
10 GB SSD-drive
512 MB memory for PHP
cPanel
Location of the server: Ukraine, Poland, Netherlands, USA

free SSL

free domain
flashlight as a gift
Strong
Ideal for small online stores
15 sites
20 GB SSD-drive
1024 MB memory for PHP
cPanel
Location of the server: Ukraine, Poland, Netherlands, USA

free SSL

free domain
flashlight as a gift
Powerful
For large projects with a large attendance
25 sites
30 GB SSD-drive
1536 MB memory for PHP
cPanel
Location of the server: Ukraine, Poland, Netherlands, USA

free SSL

free domain
flashlight as a gift
HostPro website hosting
In search of an answer to the question "what is hosting," you can come anywhere, but if you are here - you are on the right track. Now, ordering hosting in Ukraine is not a problem, but on the contrary, even an advantage: HostPro hosting company proves that any website, online store or blog that gets to our server receives the best conditions for hosting and around-the-clock support.
It is very easy to order hosting and start working with your resource - just study the available hosting packages in order to choose the one suitable for you, pay for the order and that's it - you are the owner of hosting!
HostPro hosting rental is the easiest, effective and right choice from all those presented on the market. Why? We have the best deals on renting a virtual hosting service that supports PHP and MySQL, fast servers on modern SSD drives, and a team of professionals ready to come to your aid: via online chat, by mobile phone or by mail - we will solve your problem, advise and help at any time.
Faster HTTP/2!
HTTP/2 is created in order to speed up the display of the site for the visitor.
The main advantage of the protocol is the ability to use only one TCP connection between the browser and the server. This saves network resources and server resources and eliminates the delay needed for the installation of new connections. Pages load significantly faster, especially on smartphones and tablets.
Note! For HTTP/2 to work properly, you need an SSL certificate. The certificate is not installed automatically. Please reach out to our tech support and we'd be happy to help you install it for free Let's Encrypt certificate. You can select a certificate to suit your needs on our website
Advantages of Linux hosting
Full speed
The location of your data takes place on a RAID10 array — a virtualization technology that increases the speed of information transfer. Thanks to SSD drives, a rented virtual server will be able to load pages on your site 5 times faster. Load time per page is up to 0.8 seconds.
High performance
We guarantee to ensure maximum performance of your resource. The installation and placement of sites are on industrial SuperMicro servers running on Intel Xeon CPU E5-2630 v4 processors. Regardless of the load, your project will always operate at a consistently high level.
Faster than ever
Data is hosted and stored on RAID-10 arrays built of high-performance SSD drives. That's why website pages loaded up to 5 times faster. The increase in speed will positively affect customers attendance and will positively impact on the resource position in the search engine ranking.
You are always informed
Automatic notifications about hosting resource usage will keep you updated regarding disk limits.
Site migration for free
Want to move your site to us? No problem! We will transfer it free of charge to our Linux hosting and also help you to configure web hosting.
Backups
Our website hosting cares about your data safety: every day after midnight all resources are backed up. In case you need a backup, you can get any archive for the previous 30 days by contacting customer support.
Hosting control panel cPanel;
Unlimited bandwidth;
Database server MariaDB 10, phpMyAdmin;
Database server PostgreSQL 9.2, phpPgAdmin;
Nginx;
PHP 4.4 / 5.1-5.6 / 7.0-7.4
Perl 5, Python Selector, Ruby Selector, NodeJS Selector;
SSH upon request, sFTP/FTP, SCP access (secure data copying);
Unlimited email accounts;
Mail lists/forwarders/autoresponders;
POP3, IMAP, SMTP services for mail management (including SSL encryption);
Secured webmail interface;
File manager (via hosting control panel);
Unlimited subdomains;
Subdomains, websites and FTP accounts management;
Access and Error logs (server), server stats;
Password protected directories;
Custom error pages, managed with .htaccess;
Cron task scheduler;
Daily data backup.
Extras
Dedicated IP

3

/ mo
Additional 10 GB disk space

5

/ mo


Processor
Intel Xeon® CPU E5-2630 v4
Instruction Set 64-bit

RAM
Size: 128 GB
DDR4-1600 ECC/REG SDRAM

Drive
Volume: 3 ТВ
RAID10 on the SSD disks
Read speed : 550 MB/s
Write speed: 520 MB/s
Adaptec 7805 controller